HAWKAM LUCKY BREAK WWPD, WTD, ROMWD

"PORSCHE"
21/05/06 - 16/06/16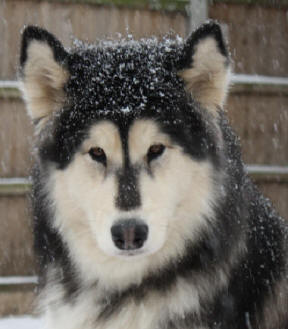 BVA hip scored and eye tested. Long coat gene tested. CHD certified.
Porsche came to join us along with her brother Womble. This wasn't the plan but at 6 weeks old, she stole our hearts and this beautiful girl just had to be ours! Walt and Kath luckily agreed to us having two pups together and Porsche joined our pack.
We are very proud to have not one but two pups from this stunning combination. Her father, Devon, is an American and Canadian Champion and in only a short period of time in the UK and limited showing he won a coveted UK CC, was named the No. 4 Import in 2007 and from the success of only 4 litters, Top Stud Dog also. Her mother Quin, was the Top UK Malamute 2003/04 and top veteran 2008. Well titled, she obtained her Show Certificate of Merit with ease and of course the illustrious title of UK Champion and her numerous wins include BISS, BVIS, BOB, BOS and of course many 1stís at Championship, Open and Speciality Shows. The showing success of her siblings (including our own boy Womble) speak volumes, with 3 CCs, numerous BOBs and BOS at Champ & Open Show level, Group placings at Open Show level, a BJISS and much more.
Porsche herself has only been shown a couple of times but we may introduce her to the ring as an adult now she is calmer and might have developed the patience for the ring.
We are equally proud of the working aptitude she has inherited. Both parents are ROMWD titled Ė Quin being the first dog in the UK to achieve this award, and her Grandmother, Kali, the second Ė and both are themselves working titled and now Porsche has become the 3rd generation to hold this special working award. Again, the success of this combination is proven best through the combined results of the littermates with 13 working titles between them to date. In the Allerton Park Weightpull Championship, sister Sika came 2nd and brotherís Womble and Logan came 1st and 2nd in their respective weight classes for 08/09, with Womble and Logan then swapping positions for 09/10.
We are pleased to say Porsche has been a strong contributor to this list of achievements. She has that natural drive to work and enjoys running in harness with Womble or Kodi, wearing her backpack and weight pulling. She gained her Weight Pull title and her Team Dog title at Allerton Park and is also working towards adding her Pack Dog title to her name.
We are more than thrilled with our Princess Porsche. She has matured from an adorable puppy into a beautiful, happy girl, with her fatherís face and darkest of eyes, along with the strong bone and sound proportions of her mother. She is an independent character who enjoys bullying her brother and absolutely adores water in any form: paddling pool, puddle, river, lake - really doesn't care as long as she's wet!
List of titles achieved:
WWPD - AMCA Working Weight Pull Dog
WTD - AMCA Working Team Dog
ROMWD - AMCA Roll Of Merit Working Dog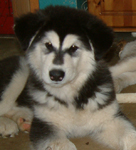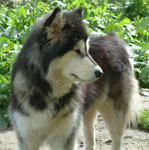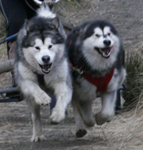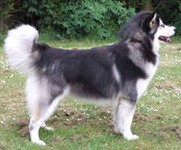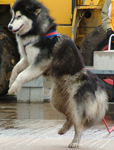 © Designed by Amaqqut Malamutes. No part of this website may be reproduced without permission.