HAWKAM'S INITOWINIT WPD,WWPD,WTD
"KODI"
20/08/02 - 17/08/15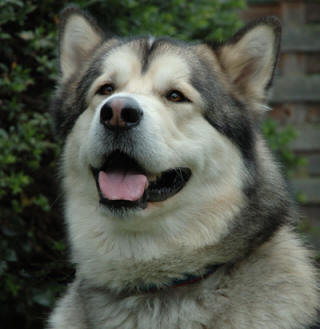 BVA hip scored and eye tested
Sadly, we lost Kodi in the summer of 2015. He is greatly missed.
Kodi joined the pack in 2002. he is truly the joker in the pack with such a sense of humour, keeping us amused with his antics. He loves everybody and enjoys meeting and greeting. He is enthusiastic in all his activities, always eager to please. He adores cuddles and insists on a night time snuggle on the bed before sleep.
Kodi taught me so much in the show ring, gaining a Best Puppy in Breed at Championship level as well as placing at Crufts. He has also gained his Kennel Club Bronze Good Citizen's Award. His true talent lies in working though. Kodi has won 1st places at rallies and was top Malamute team in C2 at Aviemore 2004 alongside Kai and Khira. Alongside his friend Scooby, they became the first Malamutes in the UK to gain a working award from the Alaskan Malamute Club of America when they carried 1/3 of their body weight for 30 miles with an overnight camp and gained his WPD title. Kodi then went on to become the first dual working titled Malamute in the UK when he gained his WWPD title by pulling over 12 times his body weight at 4 separate weight pull competitions. He completed his 3rd title of WTD in December 2010.
Kodi won the 81lbs - 100lbs class at the Allerton Park Weight Pull Championship in 2008 and then followed that by winning the 100lbs+ class in the 2008/2009 Allerton Park Championship. He also won the WU class at the AMWA Aviemore weight pull in January 2009.

We are so proud of him and his true working ability either in harness, weight pulling or backpacking.
List of achievements:
WPD - AMCA Working Pack Dog
WWPD - AMCA Working Weight Pull Dog
WTD - AMCA Working Team Dog
KC GCDS (Bronze) - KC Good Citizen Dog Scheme Bronze Award
Fastest Malamute Team - C2. Aviemore 2004
Brandelle Trophy for 1st in 81-100lb class. Allerton Weight Pull Championship 2008
Amaqqut Trophy for 1st in 100lbs+ class. Allerton Weight Pull Championship 2008-2009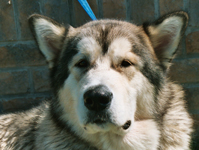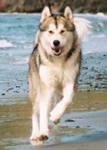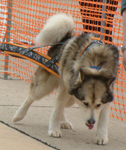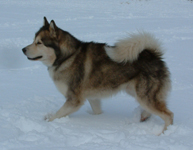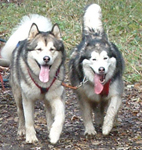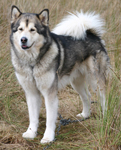 © Designed by Amaqqut Malamutes. No part of this website may be reproduced without permission.